Blandford Taxis
If you require transportation in or around Blandford Forum, look no further. Blandford Taxis provide 1-8 seater taxis at very competetive rates, and we'll get you to your destination, in comfort and on time – every time. We aim to be the number one choice for taxi services in Blandford, and once you experience our prompt, professional service, you'll see why. Whether it's a local shopping trip or a long distance journey you're planning, we're ready to get you where you need to go.
Blandford Taxis offer personalised service, professional, and well-dressed drivers. We are fully insured, and offer every one of our customers first rate service, every time.
Airports – if you jetting off on your holidays please get into contact for the best price guaranteed. we offer service to. Heathrow, Gatwick, Luton, Bournemouth, Stansted, Manchester, Birmingham. etc.
Train Stations – Salisbury, Holton Heath, Poole, Bournemouth, Gillingham, Hamworthy, Wareham, Branksome, Tisbury.
Long Journeys – we will offer the most competitive prices going to Bournemouth, Poole, Wimborne. even if it's for a day out to the beach our a day out shopping . or a night out on the town we have the best prices.
Short Journeys – if its trip to the local store or to the town for market day. or even a trip to the doctors we are the best company to ring.
Competitive Prices – we offer the best prices around so please get i contact with us to get a price we guarantee to beat any price around
No Price increase for larger vehicles – there are no hidden cost for getting to your location in the larger vehicle
Access to/from Blandford Camp – our drivers can gain access to Blandford camp which is easy if you're going out to the shop or going out for a night out. If you have finished your shopping or are finished with your night out where there
Last Minute – if your taxi or friend has let you down get in contact we are always there for the last minute journey
Reliable and friendly
I have used Blandford Taxi's for some months now under the Access to Work scheme. They have always been reliable, friendly and courteous. Would highly recommend their service😊
Debbie Triggs
Always professional
Always professional and efficient. Very helpful even when you're stuck in a bind
Nat Thorne
excellent service on New Year's Eve
We would like to thank Blandford taxis for excellent service on New Year's Eve,on time in both directions and extremely competitive prices-would absolutely recommend to anyone.
Ian Elson
Spot on Blandford Taxi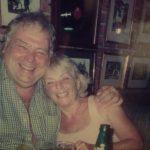 Spot on Tommy Blandford Taxi our minibus booking was perfect even putting the step our for me
Pauline King